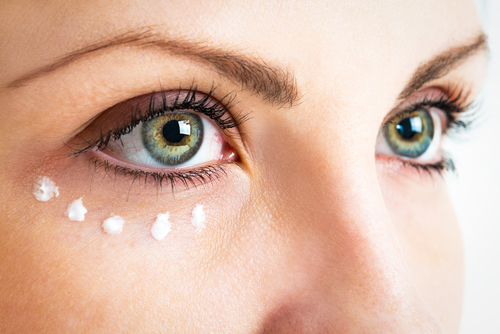 Anti-Aging & Whitening Eye Contour cream
Dark circles, wrinkles & puffiness around the eyes are among the most common complaints presenting in Dermatology clinics. Our dermatology consultants reviewed the current research material and treatment approaches. Duo-Selene eye contour is an advance cream aiming at preventing and treating the above conditions & is based on research and medical evidence.
This modern cream thus contains most of the proven-effective ingredients for treating dark hallows, puffiness, wrinkles, and rejuvenating the area around the eye.
Anti-aging and whitening cream
Uses
Reduces dark circles & morning puffiness
Helps decrease signs of aging
The under eyes appear luminous & radiant
Helps to reduce wrinkles, fine lines & signs of fatigue in eye contour area
Main Ingredients:
Retinyl Palmitate (Vitamin A retinoid)
Vitamin E
Peptides & Peptide Q-10
Green tea extract
Caffeine
Sodium hyaluronate
Licorice extract
Date extract
Apple extract
Argireline, Glycyrrhetinic acid & Bisabolol
How to use
Apply around the eye before sleep
Store at a cool, dry place, protect from direct sunlight
Temperature not exceeding 30C
Keep out of reach of children
For external use only
Mechanism action of Duo Serene eye cream
Retinyl Palmitate (Retinol & Vit A family)
Retinyl Palmitate is a gentler retinoid that stimulates the production of collagen in the skin. The produced collagen minimizes fine lines & wrinkles, and helps smoothen the skin.
Being from the retinoids family, the benefits of retinyl palmitate also include the anti-aging properties and antioxidant protection.
Scientific studies confirmed the beneficial results of retinoids in photoaging, reducing pigmentation & repairing and preventing skin aging.
References
Topical Application of Retinyl Palmitate-Loaded Nanotechnology-Based Drug Delivery Systems for the Treatment of Skin Aging. Marcela B. Oliveira etc al. Biomed Res Int. 2014; 2014: 632570

Antioxidants and vitamins in cosmetics. Lupo MP. Clinics in Dermatology. 2001;19(4):467–47
Vitamin E
Vitamin E is one of the most beneficial & most commonly used skin care ingredient. It acts as an anti-aging ingredient through assisting in various kinds of cellular restoration, like after sun damage and healing from various physical injuries.
Vitamin E exhibits both "moisturizing and healing" effects& helps to strengthen skin protective function.
Discovering the link between nutrition and skin aging. Silke K Schagen et al. Dermatoendocrinol. 2012 Jul 1; 4(3): 298–307.
Hyaluronic Acid
Hyaluronic acid helps maintain the skin moisturized and radiant. It also exhibits anti-wrinkle properties through its ability to retain water, thus the skin stays moisturized. This water-retaining action helps prevent the development of new wrinkles, and fills in already present wrinkles diminishing their appearance.
Peptides
Peptides are are the building blocks for proteins needed by the skin. Collagen is a protein made of three polypeptide chains. Thus adding peptides can help your skin to build collagen. Collagen gives the appearance of firmer, younger-looking skin.
Peptides applied locally have a brightening effect & minimizes discoloration. This reduces the appearance of under eye circle, fine lines & wrinkles and help firming the skin.
Topical application and oral supplementation of peptides in the improvement of skin viscoelasticity and density. Patricia M B G Maia Campos et al. J Cosmet Dermatol. 2019 Dec.
Peptide Q10
Peptide Q10 helps to prevent the development of Fine Lines & Wrinkles. It supports the production of collagen. It is considered as an effective component of various creams that help fight the signs of ageing.
Topical treatment with coenzyme Q10‐containing formulas improves skin's Q10 level and provides antioxidative effects. Anja Knott et al. Biofactors 2015, Nov 12, 41; 386-390
Green Tea Extract
The tannins present in green tea help to tighten the skin, reduce puffiness and improves wrinkles through the stimulation of the micro- circulation and their anti-oxidant effect. Green tea may be more effective than other tea products as it possesses a higher flavonoid content.
The use of green tea extract in cosmetic formulations: not only an antioxidant active ingredient. Mirela D Gianeti et al. Dermatol Ther. May-Jun 2013.
Caffeine
Caffeine, when applied in cream form, helps reduce inflammation & puffiness. It also helps brighten the skin, reduces wrinkles & helps tighten the skin.
Caffeine's mechanisms of action and its cosmetic use. A Herman et al. Skin Pharmacol Physiol. 2013.
Date Seed Extract
Date seed extracts help improve skin firmness & elasticity. It also improves the skin's resistance. It helps resist flaccidity and sagging through better bonding of skin layers. Scientific studies demonstrated that Date palm kernel extract exhibits antiaging properties resulting in firmed skin with less wrinkles.
Date palm kernel extract exhibits antiaging properties and significantly reduces skin wrinkles. E Bauza et al. Int J Tissue React. 2002.
Licorice extract
Licorice possesses a whitening effect through inhibition of the production of tyrosinase, the enzyme involved in pigment formation. This results in inhibiting the production of dark spots & the removal of excess melanin. In addition to the inhibition of pigment production, Licorice extract brightens the skin through an additional mechanism. It also contains liquiritin, that assists in dispersing & removing the melanin (pigment) that is already present in the skin.
Glycerolic Licorice Extracts as Active Cosmeceutical Ingredients: Extraction Optimization, Chemical Characterization, and Biological Activity. Petar Ciganović et al. Antioxidants (Basel). 2019 Oct; 8(10): 445.
Apple Seed Extract
Apple seed extract improves skin quality through its antioxidant and skin calming effects.
Nutritional and Health-Related Effects of a Diet Containing Apple Seed. Paulina M et al. Nutrients. 2017 Oct; 9(10): 1091
Konjac root powder
Konjac root powder helps absorb and retain moisture in our skin thus smoothing out wrinkles and keeping the skin well hydrated.
The Use of Konjac Glucomannan Hydrolysates (GMH) to Improve the Health of the Skin and Reduce Acne Vulgaris. American Journal of Dermatology and Venereology. 2013; 2(2): 10-14
Argireline
Argireline is a synthetic an cosmetics component that works through a muscle relaxing effect. This helps prevent the formation of wrinkles related to superficial muscle contractions. Its scientific name is Acetyl Hexapeptide-8
Pilot Study of Topical Acetyl Hexapeptide-8. Codrin Lungu et al. Eur J Neurol. 2013 Mar; 20(3): 515–518.
Glycyrrhetinic Acid
Glycyrrhetinic acid possesses an anti-inflammatory actions with its local use. It helps whitening in the treatment of various forms of skin irritation and pigmentation disorders.
18β-Glycyrrhetinic acid: its core biological properties and dermatological applications. A Kowalska et al. Int J Cosmet Sci. 2019 Aug.
Actopontine
Actopontine is a peptide aimed at enhancing the skin's appearance by boosting elasticity and density for a younger, fresher look.
https://cosmetics.specialchem.com/product/i-ashland-specialty-chemical-actopontine-biofunctional
Bisabolol
This is a derivative of an essential oil from German chamomile and Myoporum crassifolium. Bisabolol exhibits an anti-irritant effect & protects the skin from everyday damage. It has smooth muscle relaxant properties thus preventing wrinkles.
Bisabolol. Kathryn Russell et al. Dermatitis. Jan-Feb 2010.
Oleic Acid
Oleic acid is the main predominant fatty acid in olive oil is a monounsaturated fat called oleic acid. Studies suggest that oleic acid reduces inflammation and may even have beneficial anti-aging effects.
Anti-Inflammatory and Skin Barrier Repair Effects of Topical Application of Some Plant Oils. Tzu-Kai Lin et al. Int J Mol Sci. 2018 Jan; 19(1): 70.
PEG 12 Dimethicone
the most widely used silicon-based organic polymer. It is used as a moisturizer to treat or prevent dry, rough, scaly, itchy skin and minor skin irritations.
Dimethicone 2 % Topical Cream Skin Protectants.https://www.webmd.com/drugs/2/drug-18321/dimethicone-topical/details
comment

on Anti-Aging & Whitening Eye Contour cream
23 Sep